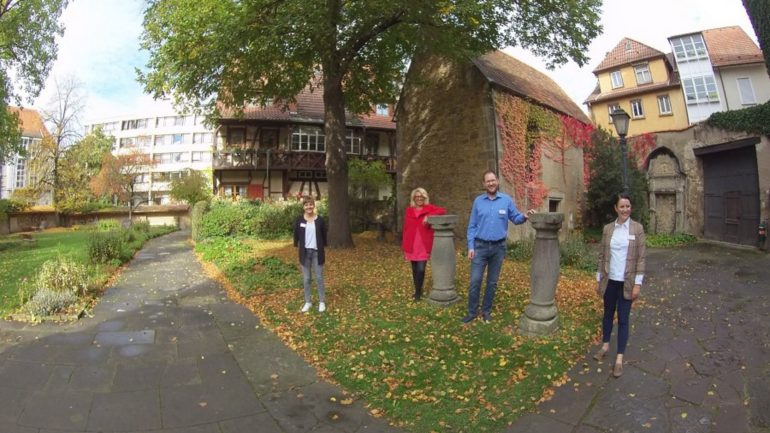 Explore the city spontaneously, even with a handicap: Together with the city of Reutlingen, contagt has developed a digital city guide for everyone. It enables visitors to explore the tourist highlights of the southern German city independently and accessible.
UPDATE: For this project contagt and the city of Reutlingen have won the Bundesteilhabepreis 2020 (Federal Participation Award)! Our digital approach, which aims to support inclusion in city tourism, was recognized with a great 2nd place in the Germany-wide competition.
The idea behind it
"It is difficult for deaf people to participate spontaneously in city tours," noticed Mr. Embery, representative for the disabled of the city of Reutlingen. The project idea came up during a meeting of the Round Table with the aim of promoting inclusion and accessibility in the city. "You can't just put a sign language interpreter in your handbag," says Mr. Embery. Why not simply use the everyday tool of people with disabilities, the smartphone, for accessible tourism?
Interaction of various components
In addition to contagt as the specialist for the app development of the digital city guide, a photographer for 360° images, an interpreter and comedian for sign language videos and the city participated in the project. It was coordinated by the representative for the disabled and consists of the following components:
Video Guides: Videos on sights were produced, which are available in High German and Swabian. As a highlight they are translated with sign language for non- and hard of hearing visitors.
360° images: A specialized photographer took 360° photos of the sights. Thus, even people who are not on site can experience the sights in VR. Furthermore, they facilitate accessible travel preparations since stairs etc. are recognized in advance.
Digital City Guide: A mobile app was developed that functions as an inclusive City Guide and can be accessed directly via the browser. Pedestrian navigation is provided by the European satellite system "Galileo", which enables accessible route descriptions. The digital map also shows disabled toilets and central bus stops.
Tactile 3D models: Tactile reliefs on steles are produced from glass. These allow the blind to feel the sights by means of the contours. QR/NFC tags attached to the accessible steles can be scanned with their smartphone to output further content visually and audio-based.
Outlook
The result is an inclusive guide that can be customized to the individual needs of the visitors and thus provides specially adapted content. In a further step, the vision of the Round Table is to be implemented, e.g. by integrating public transport data into the guide and supporting barrier-free access to buildings such as the city hall.
Further information: www.reutlingen.de/stadtführungfüralle