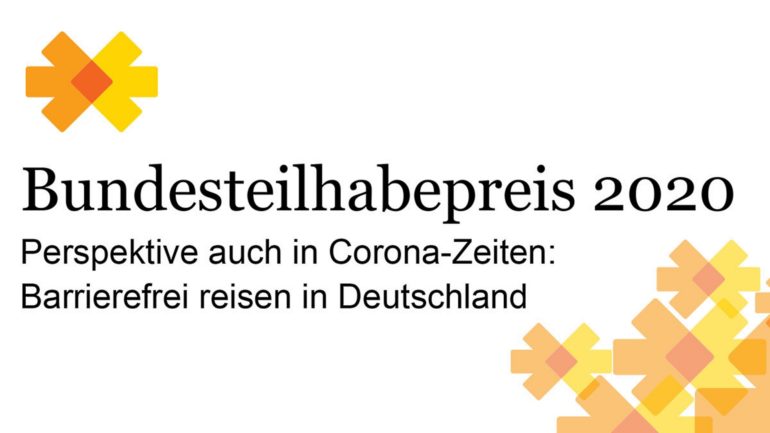 The Federal Ministry of Labor and Social Affairs (BMAS) announced the Bundesteilhabepreis (Federal Participation Award) for the second time. More than 50 projects took part in the competition, now the three winners have been selected: contagt is one of them!

Travel barrier-free during Corona
Since 2019, the Federal Participation Prize has been awarded to good practice examples and model projects for the inclusive social space and encourage imitation in municipalities or regions nationwide. The focus of this year's Bundesteilhabepreis was: "Perspectives even in times of Corona: Barrier-free travel in Germany". Enabling leisure and relaxation for all people on an equal basis and without restrictions, that is the claim of barrier-free travel (Article 30 of the UN Disability Rights Convention) – even in times of COVID-19-related travel and contact restrictions. Why not just use your own smartphone for a safe and accessible city trip?

Inclusive city guide for Reutlingen
The "City Guide for All" project takes the diversity of all people into account and individualizes the barrier-free exploration of the city. The digital guide, developed together with the city of Reutlingen and other experts, is inclusive and really supports everyone: the blind and visually impaired receive audio information, and users with restricted mobility are guided through the city without barriers. The hard of hearing and the deaf benefit from videos with sign language or subtitles and visitors with cognitive impairments are provided with content in simple language. Here is a video (source: BMAS/Matthias Köhler):

Our contribution to inclusion
This commitment is now paying off: Due to the current pandemic, Hubertus Heil (German Minister for Labor and Social Affairs) congratulates in a video message and praises our approach:
"contagt GmbH has combined technical and social progress."
For the first time, a technical platform was created that was developed together with those affected and will continue to be optimized in collaboration in the future. The developed standard system can be used as often as required and can be directly transferred to other regions and cities with other map data and content.

Conclusion
We are very happy about this award and the invitation to the Inklusionstage (Inclusion Days) 2021. The city of Reutlingen is playing a pioneering role with the project. Together with all those involved, we would like to encourage other cities and communities to imitate them – for a comprehensive expansion of barrier-free tourism.
Further information on the award and the award winners can be found at the Federal Accessibility Office under the following link: www.bundesfachstelle-barrierefreiheit.de
Further information on the "City Guide for All" in Reutlingen: www.reutlingen.de/stadtführungfüralle