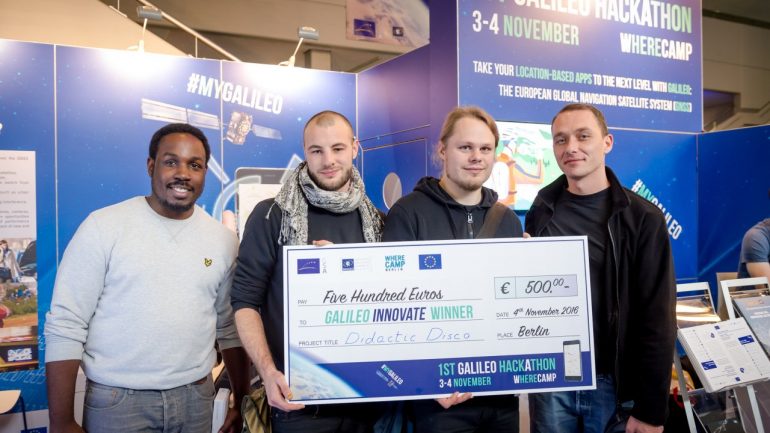 Last week Stephan and Niklas visited the industry conference WhereCamp in Berlin. It has been a really successful journey: First, we created an alternative guide for the conference in no time. Then we took part in the GSA's first Galileo Hackathon – and won the first prize.
Guide for the conference
WhereCamp took place at the Beuth Hochschule für Technik Berlin. We wanted to demonstrate how efficiently event apps can be created with our platform. That is why we downloaded the CAD maps of the building in the morning of the first day and added them to our system. In addition, we put the agenda of the event into a module and integrated it into our guide. The result: after just one hour everything was done and the guests were able to find their ways easily at the event location using the contagt app.
Galileo Hackathon
During the event days, European GNSS Agency had scheduled the first official hackathon for the new European satellite system Galileo. We could not miss this opportunity! So we took part with a small team and developed the app "Didactic Disco" (Link: GitHub) within one day. The idea behind it was a multi-player game that allows you to draw paths on maps through users' movements. The shapes and colors of the paths are freely adjustable so that a real work of art is created over time. The jury was so impressed with our live demo that it was awarded the first prize for the most innovative app!