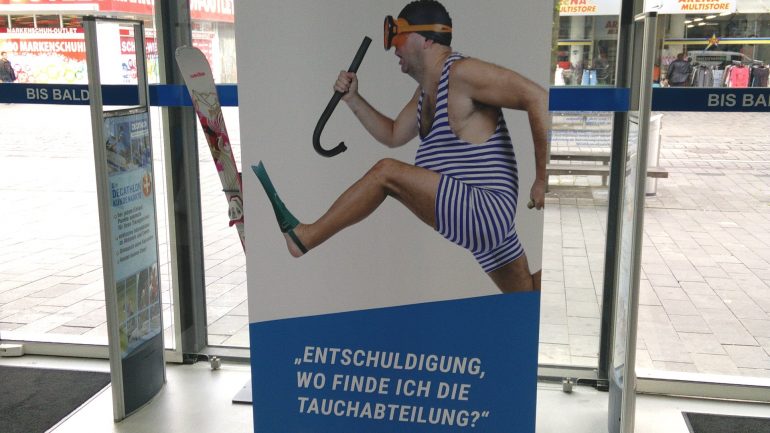 "Find products easier with indoor navigation" is the claim on the poster in the Decathlon store in Mannheim. Together with the sporting goods dealer, we thoroughly tested our system on site in 2016 – a great success!
The challenge
The first multi-storey Decathlon in Germany opened its doors in Mannheim two years ago. On a total of about 4000 square meters, sports goods of any kind are available. But how can you find the product you are looking for as simply as possible? To answer this question, we have launched a joint project. The idea: using smartphones, employees should be able to show customers the locations of goods. At the same time, interested customers should be able to use live-navigation in the building to find articles directly by themselves.
Implementation and results
First, we transferred the floor plans of the building as well as the locations of the products into the contagt system. Then, we installed Bluetooth beacons from our partner BeaconInside at the ceiling of the store and marked the locations on the map. The battery-driven beacons were placed invisibly for the customers on top of the lighting rails. The entire installation of 64 Beacons took only about an hour.
As a result, the beacons enable a reliable position determination in the building with an accuracy of two meters and accross several floors. Employees and customers can now use the contagt app to download the building's guide and view their route from their current position to the desired products. Especially anomg the young target group, this function has been very successful in recent months.
The conclusion: Quick installation, practical functionality, great easy-of-use and a wow-effect for customers. We are looking forward to further applications!