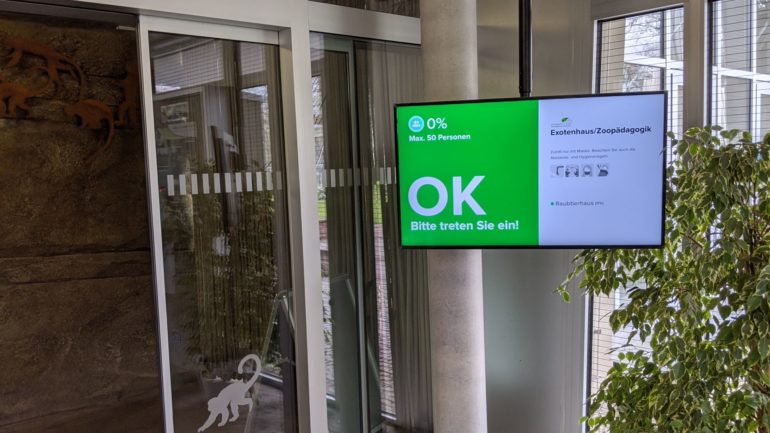 The Corona pandemic has caused a real digitalization push for buildings: In order to comply with visitor restrictions and minimum distances, operators are increasingly relying on the recording of events by sensors.
Their main task is to record occupancy rates as accurately as possible and in real time. In addition, the collected data can be used to track visitor flows. Which buildings are crowd pullers? When are the peak times? Where is there potential for optimization?
Advantages of digital visitor counters
Compared to manual counting or barrier systems, digital visitor counters offer several decisive advantages:
Less effort: You do not need personnel for counting and do not have to plan shifts.
Fewer miscounts: Barriers and turnstiles often have multiple people pushing through them at the same time.
Multiple accesses: All entrances and exits can remain open, and the recorded count values are automatically totaled.
Simple evaluation: The digital count data is stored for documentation and allows a variety of analyses.
Data protection extremely important
The digital approaches available on the market have various limitations. For example, infrared photoelectric barriers generally lack accuracy. With video-based counters, the accuracy is higher, but visitors must be informed on signs that they are being filmed.
A way out of this dilemma is offered by novel 3D sensors. They combine both accuracy and data protection. The sensors detect incoming and outgoing people by recognizing 3D patterns from humans. The accuracy achieved is over 99%.
The special trick: the captured 3D patterns are converted into count values directly on the device. Only the count values are transmitted for further processing. Thus, the privacy of visitors remains untouched. Since no personal data is recorded, there is also no need to inform visitors about video image recordings.
Include the counting situation
In addition to selecting the right technology, there are a few points to consider when preparing the building:
Which visitor groups need to be counted (e.g. including children)?
Can a stable Internet connection and cabling be implemented on site?
Which organizational measures (e.g., signs) need to be taken?
To what extent can the area of counting be delimited?
Which positioning of the traffic light displays is most suitable?
And finally: How do visitors actually behave on site?
If you are also looking for a smart visitor counter, we would be happy to advise you. We look forward to hearing from you!