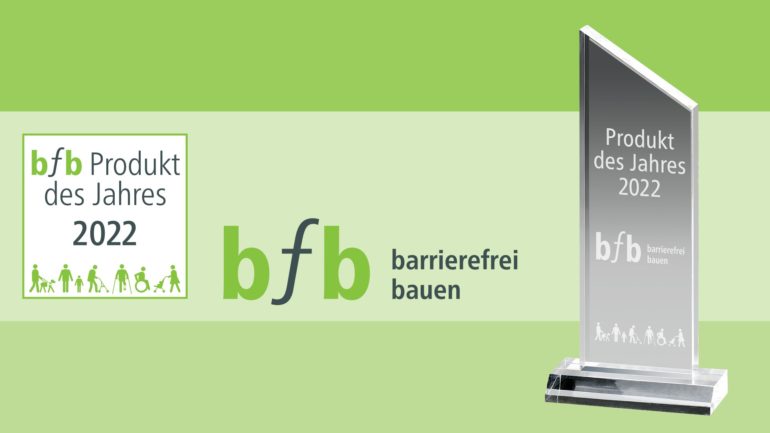 The contagt solution was chosen as "Accessible Product of the Year 2022" by the industry analyst "bfb – barrierefrei bauen". Every year the best barrier-free solutions and building products receive this award.
The outstanding feature of this award is not only that it concerns exemplary components in the inclusive construction and equipping of a building. The special perspective of the architects and decision-makers involved also plays an important role.
Tactile signage digitally enhanced
The smartphone app from contagt supports different user groups in an appropriate way when visiting buildings such as city halls, clinics or office buildings:
Barrier-free routes navigate mobility-impaired visitors through the building and sites.
Blind and visually impaired people receive audio cues, at certain waypoints to help them find their way around the site.
Videos with sign language and subtitles provide helpful information for deaf and hearing-impaired people.
Content can be presented in a variety of languages, including simple language.
About the award
The contagt solution was initially nominated in summer. The winners were now determined by a combination of expert jury evaluation and reader voting.
The initiator of the award is "bfb – barrierefrei bauen". This belongs to the Rudolf Müller Media Group, one of the leading specialist information providers in the fields of planning, building, real estate and trade marketing. "bfb – barrierefrei bauen" publishes, among other things, the "Atlas for barrier-free building", which is widely-used. In addition, "bfb – barrierefreie bauen" organizes various events and seminars.
The second winner this year is BIRCO GmbH's guide covers for the blind, which combine surface drainage with barrier-free guidance and orientation functions in accordance with DIN 32984.
Conclusion
One year ago, contagt already won the Federal Participation Award of the Federal Ministry of Labor and Social Affairs (BMAS) with an inclusive City Guide.
The fact that this is already the second award in the area of accessibility within a short period of time testifies to our commitment in this area and fills us with joy. At this point, of course, we would like to thank everyone who is convinced of our system and voted for us.
In 2022, we would also like to remove barriers in buildings and on sites and ensure that they are accessible to all. If you have any project ideas, please feel free to contact us.
For more information on the price and barrier-free construction, visit www.bfb-barrierefrei-bauen.de/digitale-wegeleitung.