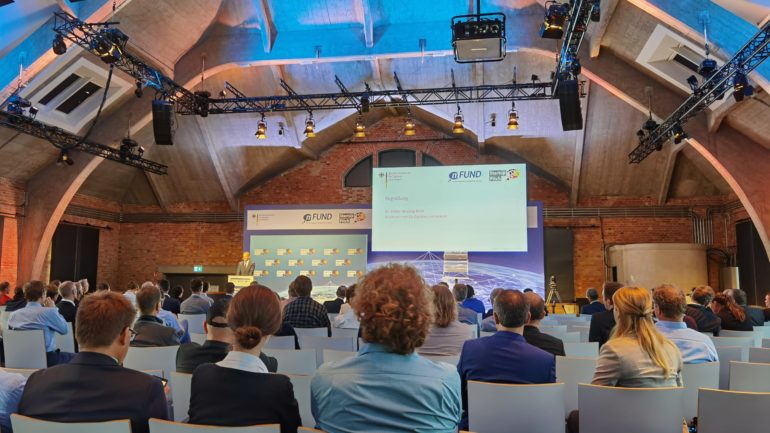 From September 13th to September 14th 2022 contagt attended the sixth annual mFUND conference in Berlin.
Innovation and inclusion
The conference, which is organized by the Federal Ministry for Digitalization and Traffic, was all about new forms of data usage in the traffic sector. Here, attendees presented their projects and networked with others. contagt presented their mFUND research project OpenData2Guide ScaleUp, which strives towards contributing to the accessibility of public transit by developing an inclusive pedestrian navigation app prototype.
Many highlights
One of the event's many highlights was the salutatory speech by Dr. Volker Wissing, Minister of Digitalization and Traffic. Additionally, he served as a member of the jury at the BMDV start-up pitch contest, where nine innovative start-ups presented their project ideas. The jury chose three winners to each receive 10,000 € prize money. This year's winners were:
Spyce – social mobility: Digital application for short distance car sharing opportunities in urban and rural areas
SafeAD: Expansion of public transit in rural areas via autonomous shuttle busses with navigation based on highly accurate real-time maps
MINOS: Status information on railroad crossings for rescue services, which enable quicker route finding in emergencies
contagt congratulates the winners!
Exciting research projects
Contagt would like to bring attention to two exciting research projects regarding public transit accessibility: Elevate_Delta by Sozialhelden e.V. and Opener-next by TU Chemnitz. Elevate_Delta focuses on live-tracking out-of-service elevators, while Opener-next collects standardized data on barriers at public transit stops via crowdsourcing. Another noteworthy project, KLIPS, is beginning to tackle the climate emergency in urban settings. By accurately measuring inner-city temperature differences, KLIPS is attempting to predict heat wave stress in individual districts.
Future topic Open Data
The topic of Open Data captured the attention of attendees. Many projects aim at making their results and gathered data freely available for the public. contagt takes the same approach to not only make public transit barrier-free, but also make any public building accessible for all.