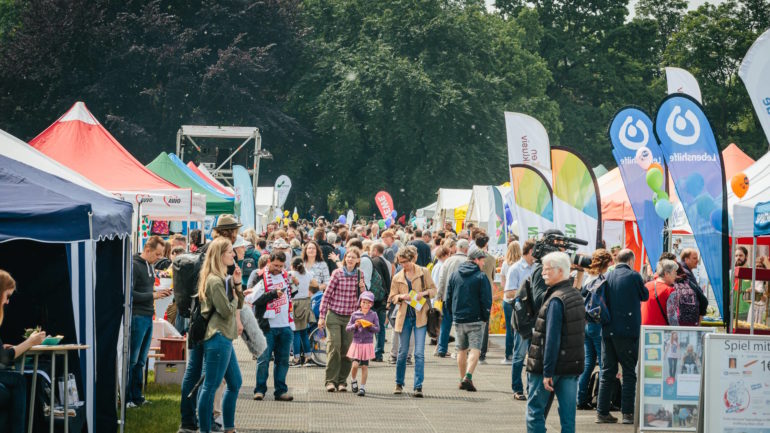 Our world is continually digitizing itself. Therefore, it is essential to ensure that everyone can easily access digital information and services. This also applies to events, where people with disabilities often face additional challenges. In this blog post, we want to emphasize the importance of digital accessibility at events and take a look at the "Tag der Begegnung" (Day of Encounter) organized by the LVR (Landschaftsverband Rheinland) as an inspiring example.
The LVR's "Tag der Begegnung": A Prime Example of Digital Accessibility
The LVR's "Tag der Begegnung" is undoubtedly an outstanding example of accessible event planning. This festival in Cologne is the largest inclusive event in all of Europe. It brings together people with and without disabilities to celebrate together. This year, the contagt navigation app was part of the experience, ensuring that all visitors could fully enjoy the event. Impressive statistics highlight the importance of this solution. The guide was downloaded more than 3,000 times during the event day and also contributed to the festival's safety. In the summer heat, one of the most sought-after destinations was the water stations, easily found thanks to the app. Even the first aid tents were easily located using the app.
Digital Accessibility: A Step Towards Independence
Visitors to the Bundesgartenschau in Mannheim, where the contagt solution is currently in use, confirm the significance of such technologies. A mobility-impaired app user enthusiastically writes to us:
"The fact that the app can bypass steps makes it much easier for me to navigate with my walker and my friends with strollers."
Digital solutions benefit not only people with disabilities but also parents with strollers and others who rely on barrier-free pathways. A blind visitor, speaking in a press interview, attests to how the digital solution provides people with disabilities with more independence and autonomy:
"The app means that you can separate from your partner and say, 'Okay, I'll stay here for a bit or go to the restroom,' or 'you can go there on your own.'"
Conclusion: Digital Accessibility for More Inclusive Communities
Digital accessibility at events is a key to creating a more inclusive community. The LVR's "Tag der Begegnung" serves as an exemplary implementation of these ideals. It is of immense importance to involve people with disabilities in the development process of accessible apps and technologies. This ensures that these solutions meet the actual needs and promote independence and freedom for all.