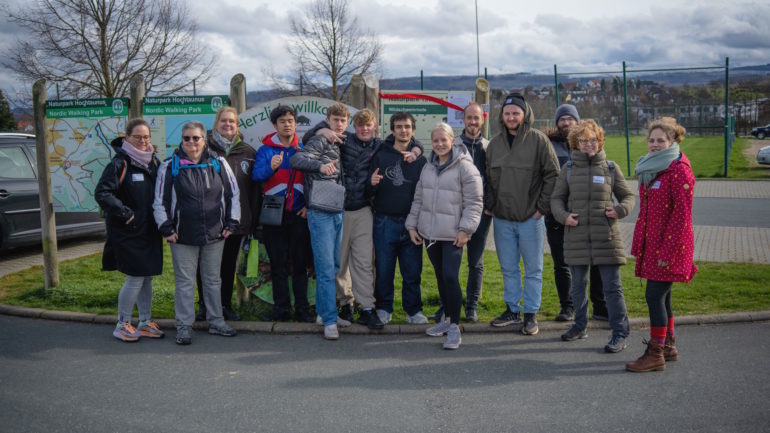 Enriching a hiking and adventure trail with digital content and thus making it accessible to people with disabilities – that was the task the LVMK Hessen and the Taunus Nature Park faced. On 23.03. the ceremonial opening and inspection took place.
Great interest
More than a dozen interested persons braved the bad weather and tested the barrier-free guide of the Wildschweinpfad ("Wild Boar Trail"). They included employees of the Taunus Nature Park and the LVKM as well as a group of people with disabilities. Thus, the affected user group could directly convince themselves of the contagt solution on site.
Barrier-free information thanks to QR codes
The guide had been developed in the past months in close cooperation with the LVKM and the Taunus Nature Park. On site there are now various features, among others:
3D map of the Wildschweinpfad including the surrounding area: orientation on site is facilitated by the zoomable map.
15 stations with location-based hints, which make it possible to access a lot of additional content such as picture galleries and audio tracks.
Comprehensive navigation: With the help of GPS, users are guided safely from station to station via audio output.
Language versions: The content is available in German as well as in simple language. The app automatically adapts to the language setting of the user's smartphone.
360-degree panorama images, with the help of which users can gain a comprehensive impression of nature on site. These were taken with a special camera on site.
Comprehensive information transfer
In our previous blog post on forest trail accessibility, we described the two major problem areas: Limited information available and lack of flexibility. On-site information is now presented in a way that all user groups can understand. The respective station signs are clearly visible and include QR codes for easy scanning. All content is available in German as well as in simple language and audio tracks are provided at all stations. Thanks to 360-degree panorama images, terrain conditions can be identified in advance and appropriate preparations can be made.
Inclusion through flexibility
The Wildschweinpfad can now also be walked by people with different disabilities. The accessible guide minimizes the planning effort of a visit, as all information can be recorded independently on site. Now, spontaneous visits are also possible without any problems for people with disabilities. Thanks to the comprehensive navigation function, the Wildschweinpfad can be accessed by every visitor autonomously.
Making nature accessible to everyone with the help of digitalization while leaving it as untouched and fascinating as it is – the contagt app makes it possible.